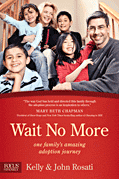 This is one couples journey to adopting four children. Feeling God's calling the couple moves to Hawaii and there they experience God's calling and direction. After seeing a child in desperate need of a home and loving family they experience the rigors and stress of adopting their first child. But each adoption has its own difficulties and stress but through it all God is with them and gives them the peace they need to keep going.
This book opens your eyes to how children in the foster care system need a family who will love and care for them. Each child has gone through some trauma and some need special attention and love. It also shows you how hard it is to actually adopt a child. There birth parents have to relinquish all rights and that can be a stressful event if you haven fallen in love with a foster child. This book will grip your heart and make you want to help out any way you can.
Tyndale House

Publishers has provided you with a complimentary copy of this book.