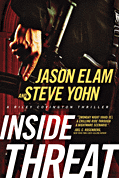 Inside threat is a thriller. Riley Covington has just gotten back into playing football and is causing quite a stir with the press and players alike. Khadi, who is the woman Riley cares most for, has been given a post as a security specialist. But when terrorists take senators and Khadi hostage, Riley has no choice but to come back and try to save the women he loves.
If you enjoy reading about action adventure or politics this book would be a great read for you. It has suspense, fighting, and politics all rolled up into one great book with a little romance. Although slow at first this book was well written and got more interesting with the turning of the pages. I enjoyed how the story drew me in while reading but I didn't necessarily enjoy reading about politics.
Tyndale House Publishers has provided me with a complimentary copy of this book.