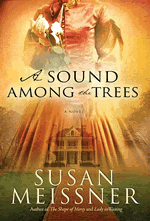 Set in present day Virginia this book follows Holly Oak house and its inhabitants through decades. Susannah Page, a young lady in the time of the Civil War, is believed to have been a spy for the Union, and that the women of Holly Oak must now suffer for her wrong doings. Shortly after marrying and moving to Holly Oak Marielle is confronted with ghost stories and twisted facts about the house. Marielle will not rest until she knows the truth of the house and the woman named Susannah who occupied it long ago.
This book was not as I expected it would be. I thought the book would be set back in the Civil War and follow through time. Never less it was still a fascinating read. You discover one woman's courage to betray her country and save the man she loves through a sacrifice she knows she should never have made. While in the present tense you see several descendants of Susannah struggling to uncover her mystery. This book would be a fabulous read for any history, romance lover.
I received this book for free from WaterBrook
Multnomah
Publishing Group for this review.