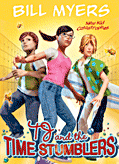 This book is set in the 21 century in a junior high school. TJ has just moved to a new town and a new school and she is desperately hoping to fit in. When two time traveling boys show up to 'help' her, things only go from bad to worse. Not only is she the most hated girl in school now, she also must learn an important life lesson before the two boys permanently ruin her life.
This book is a great read for junior high schoolers. After laughing my way through the pages and wondering what could possibly happen next I was reminded of my junior high days. This book is hilarious in its way to make everything transfer students fear about starting at a new school come to life. I would definitely recommend this book to younger readers who would get a thrill out of the story and all the mishaps.
I received a complimentary copy of this book from Tyndale House.