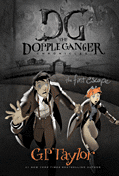 Saskia and Sadie are identical twins in a girls orphanage. They are so close they share thoughts, feelings, and the need to create mischief. But when one of their pranks separates them from each other they both must face loneliness and danger. When Sadie finds her self locked away in a tower she finds an unexpected ally in Erik, the only boy at the orphanage, who helps her escape. With the cops hot on their trail, she knows she must find her sister before she is locked away in prison. Saskia witnesses ghosts and a plot to kill her guardian, Muzz Elliott, and must do whatever it takes to save her and herself.
This book was a very good read. I enjoyed all the twists and turns that the book takes. There is murder, mystery, and supernatural all wrapped up into one. I enjoyed the way the book was set up, it was different and it made the book that much more interesting. I hope to be able to read the other books in the series soon, and find out what will happen to these three characters along the way. I would recommend this book to Harry Potter fans and anyone who enjoys a good mystery.
I received a complimentary copy of this book for review from Tyndale House.