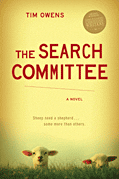 Travis is afraid of becoming a father because of how he grew up and what happened to his little brother. Dot is the town gossip, and she believes that her husband is cheating on her but is unsure of how to find the proof she needs. Bill has been married to the women of his dreams for over fifty years but when the Lord calls her home Bill has trouble living without her. Susie is strapped for cash and is having troubles with her wayward son. Matt is unhappy with the way his life turned out and finds his purpose in a truck stop waitress. Frankie saw her brother and father murder, and is afraid of losing her brothers memory but she must move on. These ragtag group of people must go on a search for a new pastor for their church. But can they get past their own baggage to help out when there s a need?
The Search Committee is about letting go of past baggage. Every character has something different either in their past or present, that is hindering them from moving on with their future. It shows how not only is God with you through the hard times, he is also there to help you heal. There are short sermons throughout the book and the last sermon had the most impact. This book was excellent and I would recommend it to someone who is looking for a quiet reminder of how God works in peoples lives.
Tyndale House Publishers has provided me with a complimentary copy of this book.