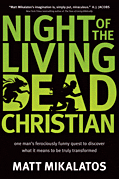 Do you know who your neighbors are? In this comic novel Matt finds himself surrounded by monsters that are just in fairy tales. After meeting a mad scientist and his robot, Matt's eyes are opened to zombies, vampires, and werewolves. Luther Martin is a werewolf struggling to be free of the wolf and is convinced the answer lies in Christianity and its up to Matt and his new found friends to explain how it all works, which they find is harder than they expected.
This book takes a serious question and answers it in a way that will have you smiling and raising your eyebrows. Each set of monsters symbolize Christians in their walk with God and shows ways on how to break free and truly live for Him. It was well written and easy to read and understand the plot's twists and turns. It was not hard to grasp what the author was trying to say or to understand the message he was trying to convey. I would strongly recommend this book to any new follower or someone who has found themselves in a rut in their walk with God.
For an author video click
here
. For author Matt Mikalatos' website click
here
. For Tyndale House Publisher click
here
.
GIVE AWAY
If you would like a free copy of this book please let me know either in a comment or via email. I will choose a winner at random and notify you. You will have 48 hours to respond then a new winner will be chosen.
I received a free complimentary review copy of this book from Tyndale House.